14x16 Digital Combo Heat Press with Stand
SKU:

DC16-TA

UPC:

MPN:

DC16-TA

Weight:

135.00 LBS

Shipping:

$140.00 (Fixed Shipping Cost)
Description
Digital Combo 14x16 Swing-Away Press with DKA-Stand Included!
The Digital Combo multipurpose swing-away heat press comes standard with a 14"x16" heat platen and lower table. (The DC8 6"x 8" label size is also available).
The interchangeability of the Digital Combo is performed quickly and safely. If your product offering is going to reach beyond just flat & fabric items, the Digital Combo is the superior heat press machinery solution. The Digital Combo press allows for pressing over 2" thick products.
The Digital Combo utilizes quick-change attachments for heat transferring images onto a surprisingly wide variety of materials. Available for this one press is every attachment necessary to professionally imprint:
T-Shirts

Caps

Ceramic Plates

Ceramic Tiles

Mugs

Mouse Pads

Paper Memo Cubes

Tote Bags

Jigsaw Puzzles

Lettering

Wood / Metals

Other Misc. Fabrics & Materials
T-shirts, tote bags, wooden plaques, coated metals, mouse pads, wrist pads, miscellaneous material and notably anything that is too bulky for the conventional flat press is effortlessly printed on the Digital Combo Press. Its raised pedestal bottom table using the 14" x 16" standard flat heat platens available provides drape space, adjustable alignment and base interchangeability for even the most demanding of applications.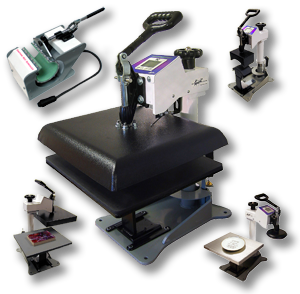 Features
Fully digital temperature control 32°-600°F range

Automatic digital timer & dual pre-press timer

Digital Pressure Bar Graph

Interchangeable Heat Platens & Tables

Solid steel welded framework

SuperCoil-Microwinding™ heater technology

Accommodates materials up to 2" thick

Temperature readout accuracy +-2°F - can show °C or °F

70 Programmable presets

Records number of pressing cycles done

Teflon-coated 3/4" thick heat platen
Warranty
FREE LIFETIME Tech Support!

Lifetime warranty on heat platen

5-year warranty on frame

3-year warranty on controller

1 year warranty on parts
Specs
Shirt & Tile attachments included
Weight: 135 lbs
Electrical: 1500W / 12A / 120V
Dimensions: 22"W x 22"D x 22"H

(add $35 for 220V international)
THIS PRODUCT IS NOT ELIGIBLE FOR FREE SHIPPING, THERE IS A $140.00 STANDARD SHIPPING FEE. CONTINENTAL U.S. SHIPPING ONLY.
View All
Close
Warranty Information
Geo Knight & Co warrants that the press is free from defects in both material and workmanship One Year from the date of invoice to the buyer. If any parts or workmanship are found to be defective in manufacture, Geo Knight & Co will repair or replace the defective parts or workmanship. In addition, Geo Knight & Co warrants that the Digital Knight heat control is free from defects in both material & workmanship and is covered under no-charge support for (3) years. Geo Knight & Co also warrants that the heating element is warranted for the lifetime of the press, provided it is owned by the original purchaser. This lifetime warranty on the heating element does not cover temperature sensor failure, damage or disconnection. This warranty covers all parts to repair the defects, except when damage results from accident, alteration, misuse or abuse, or when the machine has been improperly installed, or modified in any way. If the press becomes defective during the limited warranty period of one year for the entire press, three years for the control, or the lifetime of the heating element, Geo Knight & Co reserves the right to recall the defective press to the factory for repairs if on site component replacement is deemed not possible by Geo Knight & Co. A return authorization must be granted by Geo Knight & Co prior to its return. If a press covered by the one year limited warranty must be returned to the factory for repairs, Geo Knight & Co shall make every effort to repair buyer's press. However, Geo Knight & Co reserves the exclusive right to determine whether to repair or replace a defective press. If Geo Knight & Co authorizes a replacement press, the warranty of the replacement press shall expire on the anniversary date of the original machine's invoice to the buyer. There are no warranties which extend beyond the description on the face hereof. Seller disclaims any implied warranty of merchantability and/or any implied warranty of fitness for a particular purpose, and buyer agrees that the goods are sold as is???. Geo Knight & Co does not warrant that the functions of the press will meet the buyers requirements or expectations. The entire risk as to use, quality and performance of the press lies with the buyer. In no event will Geo Knight & Co be liable for any damages, including loss of profits, destruction of goods or any other special, incidental, consequential or indirect damages arising from the use of the press or accompanying materials. This limitation will apply even if Geo Knight & Co or its authorized agent has been advised of the possibility of such damage.
View All
Close